Today we're talking about reasons for why someone might have low testosterone levels. So we're going to talk about  causes of low testosterone and about ways to increase testosterone levels naturally.
Low testosterone is a condition that affects men most commonly later in age, in their 50s, 60s, and older. It's related to just a natural process of testosterone decrease in overtime. However, it can be seen in men of younger age or men who have had a different medical problem.
Testosterone is the male sex hormone. It's what gives people their libido, their sexual desire, but it's also important for bone density.1 , make your bones strong and hard, insulin control, which is controlling your diabetes and preventing metabolic syndrome2
These symptoms of low testosterone include poor energy, especially in the afternoon, sleeping difficulty, reduced endurance when exercising, reduced work productivity, reduced exercise productivity, mental effects such as irritability, depressive symptoms, confusion, or short term memory loss.
There are a lot of herbal treatments being sold out there but sometimes we have no idea what's actually in that medication. There could be things that could be harmful to your health so you want to make sure you're in proper medical care with somebody who specializes in treating low testosterone. Make sure to read our reviews of the best science-based testosterone boosters here.
What causes low testosterone?
Bisphenol A Dangers
One of the largest contributors to low testosterone levels is the chemical Bisphenol A.3  Now Bisphenol A is found in polycarbonate plastics so an example would be plastic water bottles. Studies have shown that Bisphenol A or BPA lowers testosterone levels in men and it also lowers the levels of another androgen and it's also been shown that men that go to fertility clinics nearly 90 percent have bisphenol A or BPA in their urine.
Bisphenol A is considered one of the largest contributors to low testosterone in men.
Overweight or obesity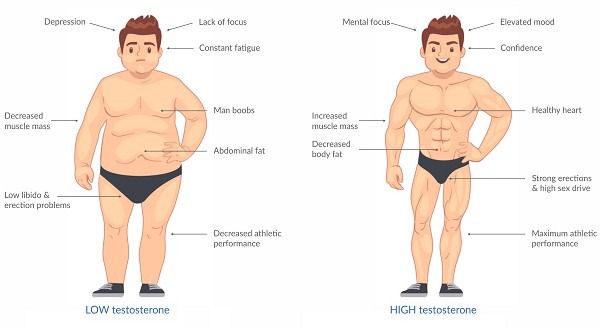 The second reason for low testosterone levels is being overweight or obese4  and the reason is that if an individual has more adipose tissue or more fat the adipose tissue contains an enzyme known as aromatase. Aromatase is an enzyme that converts testosterone to estrogen. We reduce our testosterone levels by having more of this enzyme around.
Diabetes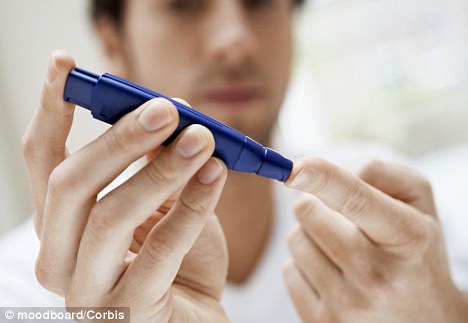 There's also the issue with diabetes. If you're overweight or obese it increases the risk of diabetes and diabetes has also been shown to reduce testosterone levels.5
Lack of sleep
Another reason for low testosterone levels is reduced sleep. Reduced sleep leads to increased cortisol levels or that stress hormone cortisone and it also lowers morning testosterone levels.6
If we wake up earlier than normal our testosterone levels are lower than if we were to sacrifice our sleep in the first half of the night.
Nutrition
One more reason for low testosterone levels is dietary factors. Certain things in our diet can reduce testosterone levels and there are certain things that we need to get from our diet such as vitamins and minerals that are required for testosterone production.
If we have a diet that's very low in fat this can lead to reduced testosterone levels. A deficiency in the mineral zinc also reduces testosterone levels.7
Zinc is important in the production of testosterone so if we have a deficiency in zinc we will have lower testosterone levels. Any deficiency in vitamins E and C also can reduce testosterone.
Stress
As I mentioned before cortisol is a stress hormone and increased cortisol level acts on the brain to increase levels of the hormone gonadotropin inhibiting hormone this leads to reduced testosterone levels it reduces testosterone production. So, stress lowers testosterone levels!8
Alcohol
This is especially important with the consumption of beer! If we take something that's having estrogen, it's going to lead to reduced levels of testosterone.9
Asexuality
Another reason for a low testosterone level is asexuality. The low testosterone levels actually can lead to a lower desire for sex or lower libido and lower libidos can lead to lower testosterone levels. It's a vicious circle of cause and effect.
8 ways to increase testosterone levels
Avoid the use of plastics or avoid drinking out of plastic bottles. Instead, you should try to drink from a glass or stainless steel.
The next thing we can do is limit the consumption of alcohol and in particular, avoid drinking beer. It's better to limit consumption of alcohol but if you're going to drink alcohol it's suggested that vodka is a better alternative to beer. Limited consumption of vodka may be okay in this case.
Sleep in a dark room for at least eight hours per night. Many hormones in the brain are produced during night time. Again if we have a reduced amount of sleep per night we were going to increase cortisol levels. You're going to reduce your testosterone levels, so it's important to get a good night's sleep. It's so important to turn off your tablet, phone, and your computer at least an hour before you go to bed. If you have your phone on before your bedtime your brain still thinks it's daylight and may not produce adequate levels of testosterone, HGH, and other hormones.
The next thing we can do is we can reduce stress through different types of relaxation. Listen to music, doing yoga, doing meditation. These can all reduce the stress they can all help to increase testosterone levels.
Lose some weight. Remember that adipose tissue or fat contains an aromatase enzyme. The fatter we are the more aromatase enzyme we have. It converts testosterone to estrogen so you're going to lead to lower levels of testosterone.
Increase the consumption of zinc from food. Zinc can come from a variety of sources some of the highest concentrations of zinc occur in oysters. You can also get zinc from beef, pork, poultry. If you are wanting to get away from meat you can have other plant-based alternatives such as beans and nuts.
Increase the consumption of healthy fats. Low-fat diets can lead to reduced testosterone levels. I emphasize healthy fats. Healthy fats like fish oil, plant oils like olive oil and coconut oil are good sources of healthy fats. Things like dark chocolate again have saturated fats real butter has saturated fat and these are necessary for certain quantities. Don't be shy or nervous about increasing the fat in your diet
Have a healthy sexual life.
All of these things can lead to increased levels of testosterone and can ultimately lead to a healthier more energetic life for many men that may suffer from low testosterone levels.

Mike Lilley is the author of many articles and reviews on our site. He is a fitness & bodybuilding blogger and co-founder of Boost Hormone. He writes product reviews based on the results of scientific research. From the great variety of information and products in this niche, he recommends only those that include science-based nutritional ingredients. Find Mike Lilley at SelfGrowth.